A hybrid beast with a singular vision.
Discover the all-new Mercedes-AMG ONE, a savage blend of science and spirit.
Never taunts you. Never crosses its arms. Rolls its eyes. Never loves to say, "That'll never happen." Never never lets up. Until the impossible happens. And when it does, they never… ever… see it coming. Behind every beautiful car is a beautiful idea.
Welcome to the future of driving performance.
With the Mercedes-AMG ONE, a Formula 1 vehicle is road-ready for the very first time. From the collaborative minds of Mercedes-AMG and the Petronas Motorsport team, it features a highly-integrated powertrain with a turbocharged combustion engine and four independent electric motors: one for each front wheel, one linked to the crankcase, and one in the turbocharger itself. This results in over 1,000 horsepower and a blistering top speed of 217 mph.
The front axle electric motors are capable of 50,000 rpm alone, and selective torque distribution allows for extra high levels of vehicle dynamics. This, combined with the Race Start function and the elimination of turbo lag, allows the Mercedes-AMG ONE to go from zero to 124 mph in under six seconds.
While the power and handling is unrivaled, the efficiency of the Mercedes-AMG ONE is equally impressive. An EQ Power+ hybrid drive system allows for multiple driving modes, from purely electric to highly dynamic, and the regenerative brake system recoups up to 80% of braking energy. The end result is optimum output and efficiency.
Visually, the Mercedes-AMG ONE evokes the premium class of motorsport with muscular proportions, numerous air inlets, and forged aluminum wheels with Michelin Pilot Sport Cup 2 tires. The interior is radically minimal, with lightweight bucket seats and a Formula 1 steering wheel. But it's the complete package that resonates, pushing the limit of what's technologically feasible, and opening a new chapter in the history of Mercedes-Benz.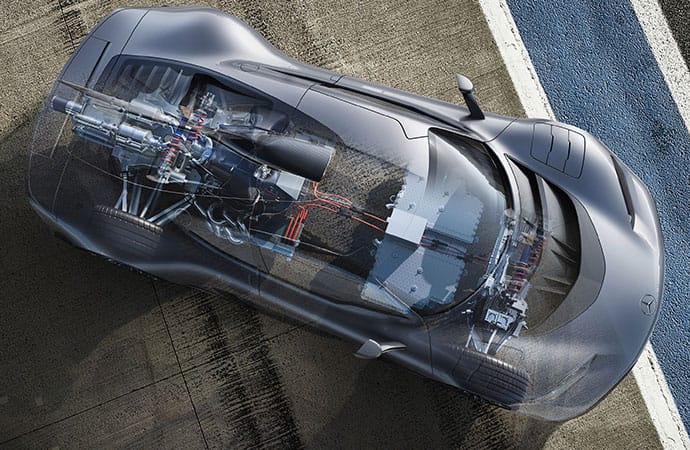 Performance
A 1.6-liter V6 hybrid engine with direct injection and electrically assisted turbocharging
Four electric motors for a combined 450 kW
Total output of over 1,000 hp
Automated AMG SPEEDSHIFT® 8-speed manual transmission
800-volt EQ Power+ drive system
Adjustable ESP® with ON, SPORT HANDLING, and OFF modes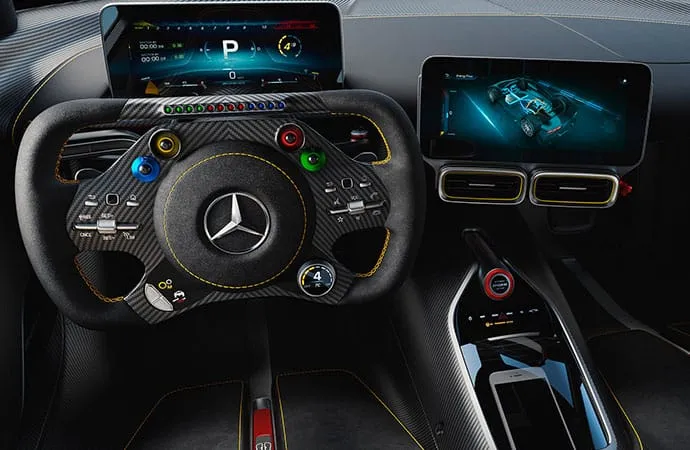 Design
10-spoke forged aluminum wheels with Michelin Pilot Sport Cup 2 tires
Flat-LED headlamps and tail lamps with rhomboid design that echoes the AMG logo
Rooftop air intake and vertical shark fin
Vertical spoiler lip and two-section rear diffuser
Two high-res, free-standing 10-inch displays within the cabin
Formula 1-style steering wheel with integrated controllers and LED shift display
Gallery